Trans Arabian Pipeline construction began in 1947 and was completed in 1950. It was a 30" and 31" line from Qaisumah Saudi Arabia running 753.5 miles to Sidon, Lebanon. The 314.7 miles of pipe line which extends east and south from Qaisumah to one of the world's largest producing oil fields belong to Aramco. After years of constant bickering between Saudi Arabia and Syria and Lebanon over transit fees, the emergence of the supertankers, and pipeline failures, the section of the line beyond Jordan ceased operation in 1976. Between Saudi Arabia and Jordan pumped modest amounts of petroleum until 1990 when the Saudis cut off the pipeline in response to Jordan's support of Iraq during the First Gulf War.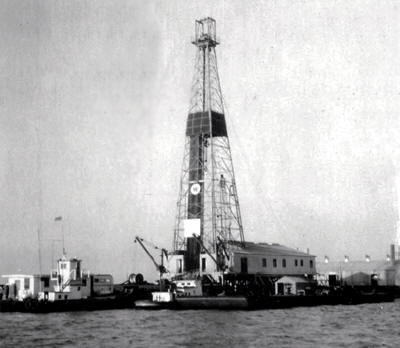 Texaco Rig in Houma, Louisiana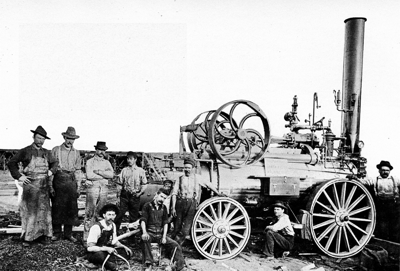 Portable steam engine Union Oil Company used on their wells in the Santa Paula oil district of the Ventura Basin.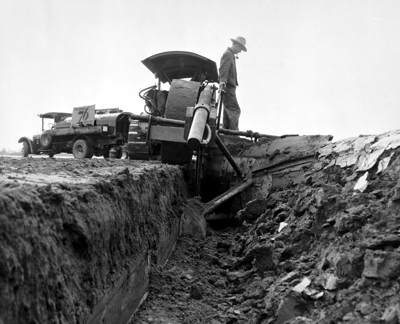 Union Oil Truck Delivering Products to a construction site in Santa Ana, California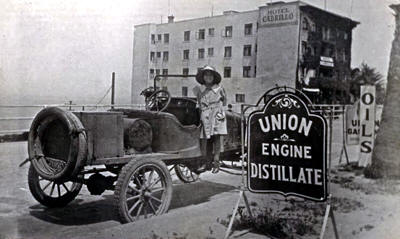 Union Oil of California station. Ford Speedster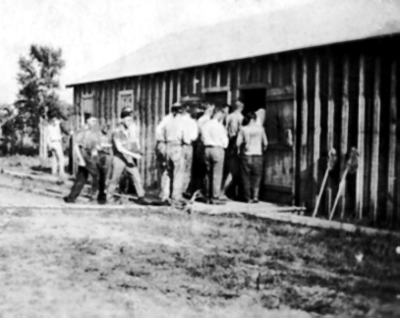 Gulf Oil Mess Hall Crane Texas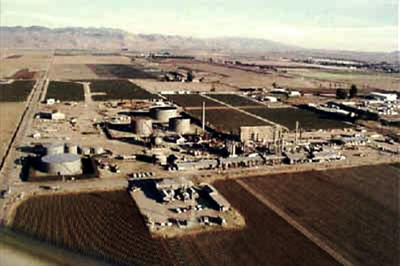 Unocal Battle Gas Processing Plant near Santa Maria, California built in 1937. It was abandoned in 1995. Another plant was built at Lomboc to replace it.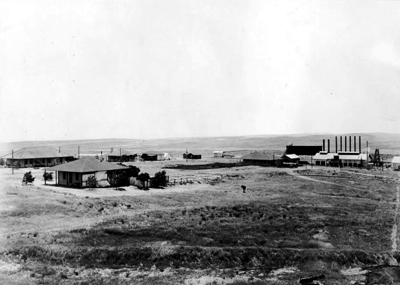 Standard Oil Company Complex in Coalinga, California in 1907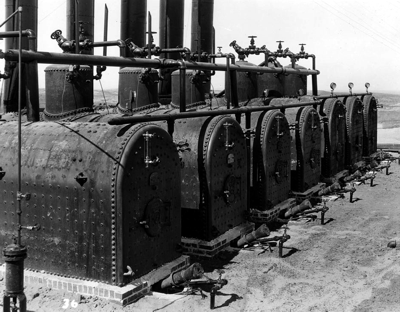 Pacific Western Oil Company Boilers at the Kettleman Hills Oil Field, ca.1931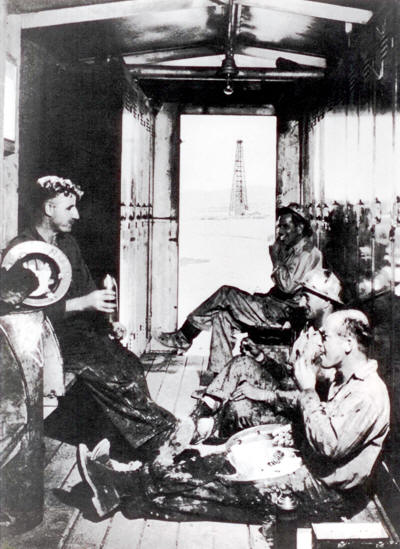 Oil Workers having Lunch in a Dog House 1951 California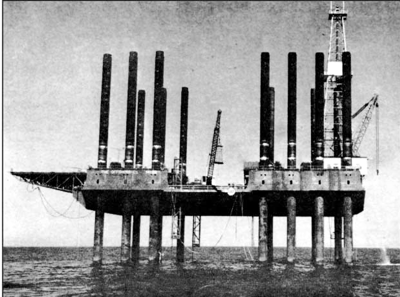 Offshore Company Rig 52 Drilling For Gulf Oil Company in 1960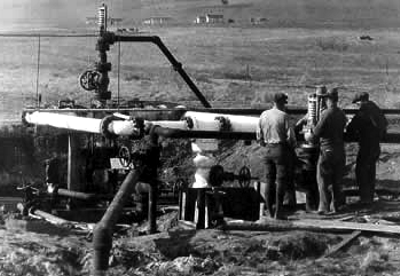 Royalite #4 - Hooking up the well that started the oil boom in Turner Valley, Alberta Canada in 1924.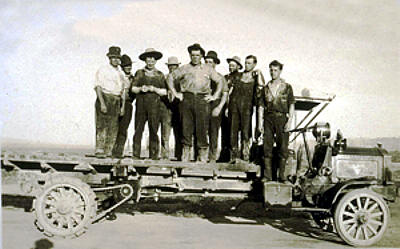 Gulf Oil Rotary Crew Going to Work. Must be going to work, they look clean.
Cy Woodruff and crew Drilling a Well for Standard Oil of California in Southern California in 1922.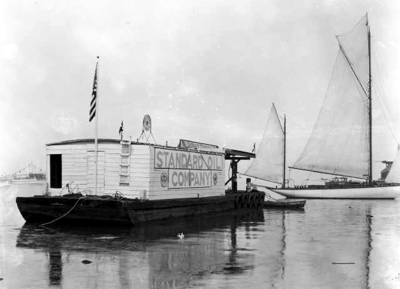 Standard Oil of California Service Barge at the Tacoma Yacht Club July 1924
Standard Oil of California El Segundo Refinery Central Tool Room in 1935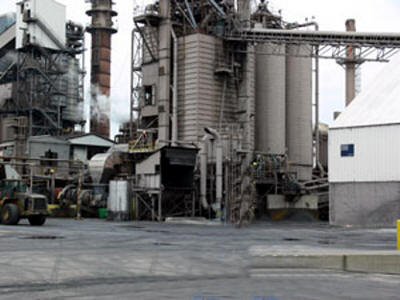 Chicago Carbon Company. This company was originally owned by Union Oil of California. Chevron merged it, Pittsburg & Midlands Coal Company and MolyCorp and renamed the company Chevron Mining in 2007.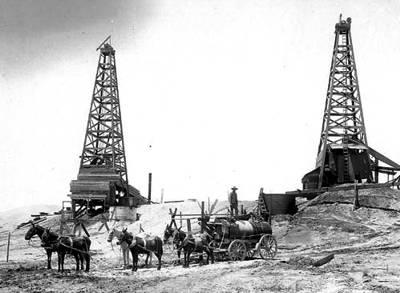 Kern River 1899 Hauling Oil to Market with a Team of Mules.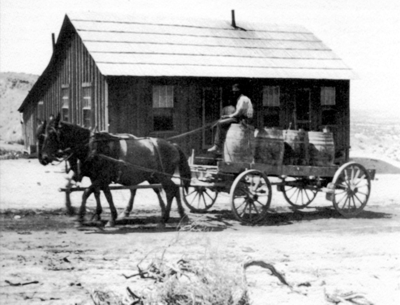 Oil was selling for 8 to 10 cents a barrel from the early Bakersville Wells while water transported to Bakersville would sell fo $1.25 a barrel. Hopefully, it was not in the same barrels that left the field with oil.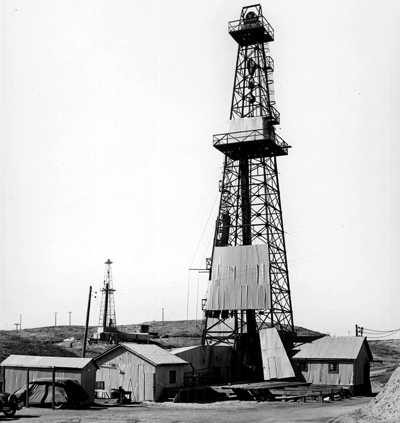 Kettleman Hills Oil Field, ca1930 Standard Oil of California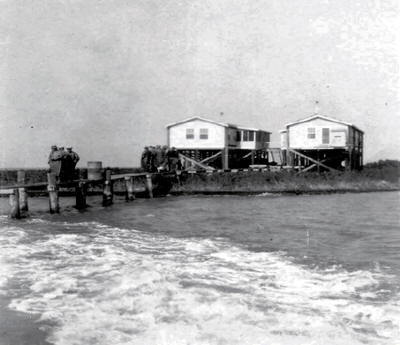 Texaco Field Crew Quarters in Louisiana. Crews are waithing for boats to take them to the field.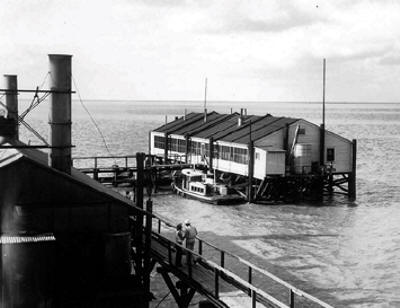 Texaco Office and Living Quarters in Louisiana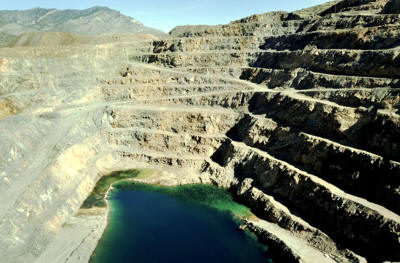 Molycorp Minerals open pit Mountain Pass Mine in Mountain Pass, California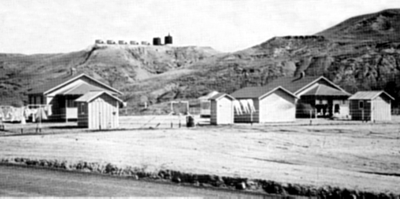 Texaco Camp in the Bemis Oil Field - 1936 Ellis County, Kansas