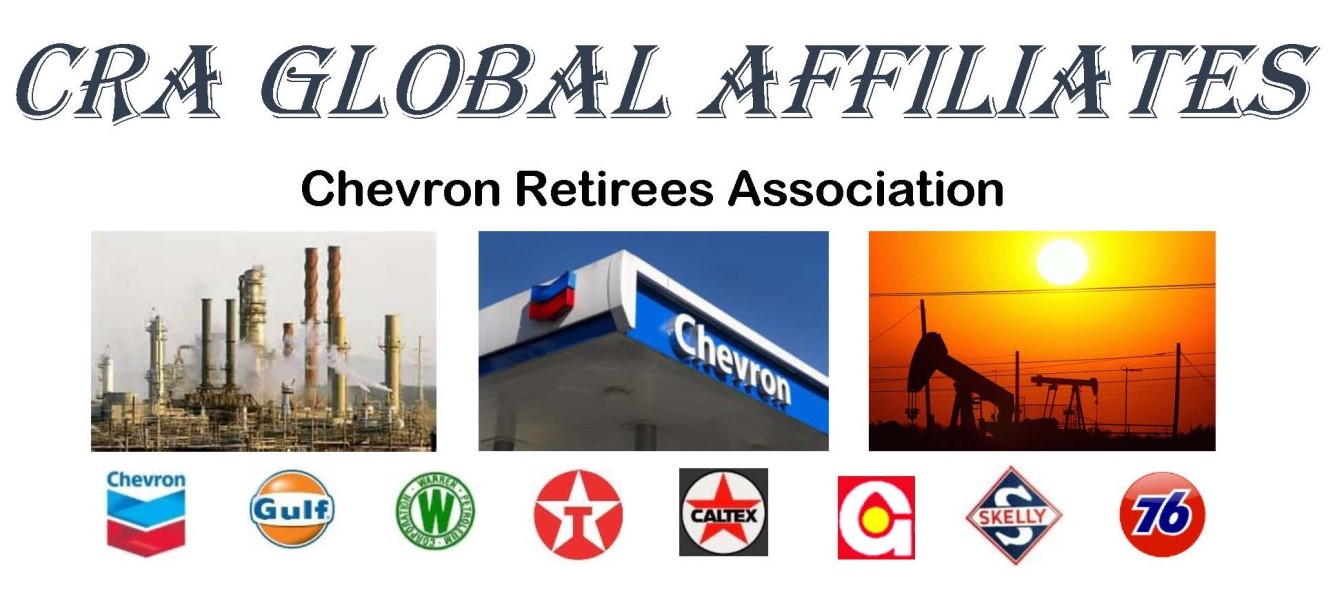 IMPORTANT NOTICES FOR GLOBAL AFFILIATES MEMBERS
CRA Benefits Chair, Lezley Barth, has provided the following information that should address the majority of questions relating to communications from Chevron and/or OneExchange.

(1) Open Enrollment - Post-65 You have or will receive this communication from Chevron. It was mailed in a series of geographic mailings, and some locations (mine included) have not yet received their communications thus far. This document is more general in nature and references the Open Enrollment period, October 15 through December 7, 2017, OneExchange, etc. It does NOT include any plan detail for post-65 eligible participants nor rates for 2018.

Regardless of receipt of the foregoing document, your Healthcare selections are now available to you within the OneExchange website, and can be accessed with your ID/Username and Password. The alternative healthcare plans are available within the SHOP AND COMPARE tab. (Note: Some vendors such as United Healthcare are referenced within the list but you have to contact them directly to obtain rates, but only sign up through OneExchange to obtain your HRA). Also, make sure the filters on the left-hand side of the page in the OneExchange website indicate Show all, at least initially, until you wish to refine your selection criteria.

If you want to stay with your current plan, your healthcare vendor -- not OneExchange -- should provide your new rates for 2018. As referenced in my earlier Open Enrollment presentation and the Benefits Corner Q&A, if you wish to remain with your current plans, you need not take any action, either by notifying them of your intent to renew or by contacting OneExchange and going through the enrollment process again. The policy(ies) you originally selected with auto-renew unless you notify them of your desire to change plans within the Open Enrollment period. For additional information, please refer to my Open Enrollment presentation and the Benefits Corner Q&A.

(2) Important Information: Recurring Reimbursements for your Medicare Part B Premiums for 2018 You received this communication from OneExchange.
To provide some insight on the above communication and form ... During 2017, some participants selected healthcare plans with low monthly premiums, and as a result have a larger balance in their HRA accounts. Without recurring reimbursements, they have to manually apply for year-to-date paid premiums using a Medicare Part B Reimbursement Request Form, attaching the Social Security award letter for 2017 as supporting documentation. If you think this scenario may apply to you, log in to the OneExchange website and check your account balance by selecting the FUNDS AND REIMBURSEMENT tab. A Medicare Part B Reimbursement Request Form is available within the website.

With OneExchange sending you the Recurring Medicare Part B Reimbursement Request Form for 2018, eligible participants that typically have an accumulation of funding in their HRA account can now receive cash flow on a monthly basis from their HRA account to offset their healthcare expenses (assumes Medicare Part B). They will only need to complete this form and attach the new Social Security award letter for 2018 (when available) as supporting documentation.

Just to clarify: There are two fundamental choices (shown below) for auto-reimbursement of paid healthcare premiums from your HRA account:
(1) Reimbursement of your medical, prescription, vision, or dental premiums, or

(2) Medicare Part B premiums deducted from your Social Security checks.

It depends on what you believe will work best for you based on these considerations: The monthly amount available in your HRA, your monthly premium amount(s), and the healthcare vendor's capability/timeliness in processing reimbursements. (Note: Each year you will need to complete and submit to OneExchange a new form Recurring Medicare Part B Reimbursement Request Form, attaching the new Social Security award letter as supporting documentation. This is an annual requirement because your Medicare Part B amount can change from year to year.)

Obviously, whichever you choose as your basis for premium reimbursement, you will only be able to receive reimbursements to the extent you have funds within your HRA account.


---
Fellow Retirees

The weather has played havoc throughout the U.S. with both hurricanes and fires coast to coast; and, affected many of our members. We hope this newsletter finds everyone safe.

I want to point you to the 4th quarter issue of the CRA newsletter – Encore – specifically the Benefits Column, which includes a series of "FAQ's, frequently asked questions" about the post-65 medical plan open enrollment period that is underway.

WELCOME to our new members this quarter! Dennis Anderson, William Keith Beam, Charles Keefer, James D Newby, Matt Palmer and Doug Pottenger. All are Chevron Retirees.

Thanks to all of you for joining and to those of you who have recently renewed your membership.



Regards,   

Maree "MJ" Stone
ps - please feel free to use the PO Box address (P O 842124, Houston TX 77284) or my home address, which I provided after Hurricane Harvey visited the Houston area. Although the physical post office was destroyed, a temporary one has been established and the number shown is active.
---
MEMBERSHIP REMINDER

Global Affiliates operates on a calendar year basis – January through December. We appreciate your keeping your dues current. For those of you receiving paper copies of The Update, the renewal date is shown above your address. Email communications also include your renewal date. You may bring your membership up to date by completing and submitting our Membership Form.

If your dues were in arrears since 2014,  you have been removed from the distribution. Should you wish to rejoin Global Affiliates, please use the Membership Form. 
---
NEW ARTICLES THIS QUARTER
---
Chevron Retirees Association
Kathleen G Henschel
President
108 Poppy Court.
Walnut Creek, CA 94596
415-713-9979 (c) 925-939-1988
kghenschel@gmail.com
Chevron Retirees Association
MJ Stone
Area Vice President - Global Affiliates
17527 Cypress Laurel St.
Houston, TX 77095
602-989-5197
mjstone-1@comcast.net
CRA MISSION: To attract and retain a diverse and multicultural dues-paying membership that brings value to all retirees and spouses and to the corporation
This website is managed by the Chevron Retirees Association, which is
not a subsidiary of Chevron Corporation but an independent organization
of retired employees of Chevron or its predecessor companies.
© 2010 Chevron Retirees Association. All Rights Reserved.