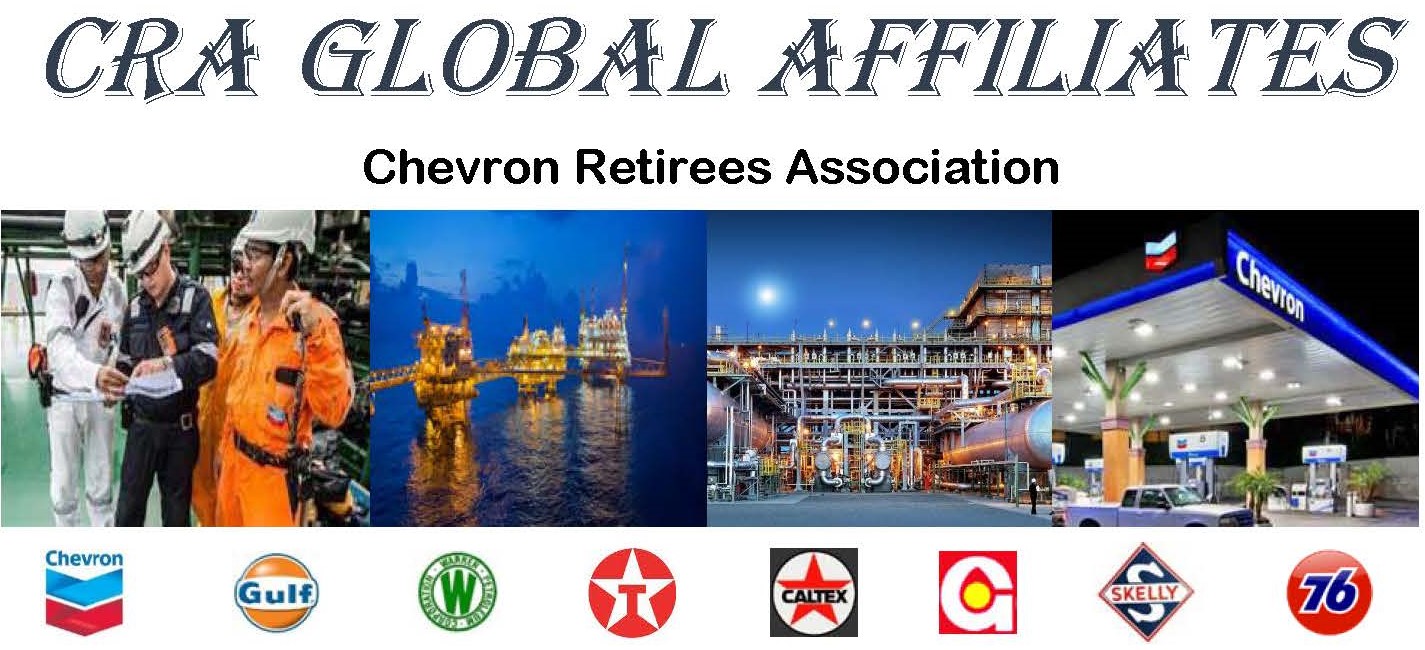 Fellow Retirees,

SUMMER – depending on where you live – you may be enjoying cool weather, maybe some rain; however, for us here in South Texas, we are green with envy (or is that the beginning of mold due to the high humidity?) that we cannot share.

I want to remind you to read Encore, which is inserted in this newsletter – interesting articles about the Annual CRA Meeting in Seattle WA in early April and, as always, encourage you to join the Chevron Advocacy Network, if you are not a member.

Our report of new members is very slim this quarter. Please welcome Jerry Ray, former Chevron retiree.

And a big Thank You to those who have renewed your membership.

It is hard to believe that the year is half over, enjoy the summer and stay healthy!



Regards,   

Maree "MJ" Stone
---
MEMBERSHIP REMINDER

Global Affiliates operates on a calendar year basis – January through December.

We appreciate your keeping your dues current.

If the date shown is 2021 or any prior year, we ask that you renew your membership now.

Dues for the household are $8 per year or for our 5-year plan - $35 (a 12.5% savings).

To retain your annual membership through December 31, 2022 and your renewal date is:
2021 – your dues are $8.00

2020 – your dues are $16.00

2019 – your dues are $24.00


Make your check payable to CRA-Global Affiliates and send to PO Box 842124, Houston, TX 77284.

You may bring your membership up to date by completing and submitting our Membership Form.


---
NEW ARTICLES THIS QUARTER
---
Chevron Retirees Association
Brad McCullough
President
7 Valley View Road
Orinda, CA 94563
925-253-0229
bjcc2@comcast.net
Chevron Retirees Association
MJ Stone
Area Vice President - Global Affiliates
P.O. Box 842124
Houston, TX 77284
602-989-5197
mjstone-1@comcast.net
CRA MISSION: To attract and retain a diverse and multicultural dues-paying membership that brings value to all retirees and spouses and to the corporation
This website is managed by the Chevron Retirees Association, which is
not a subsidiary of Chevron Corporation but an independent organization
of retired employees of Chevron or its predecessor companies.
© 2010 Chevron Retirees Association. All Rights Reserved.