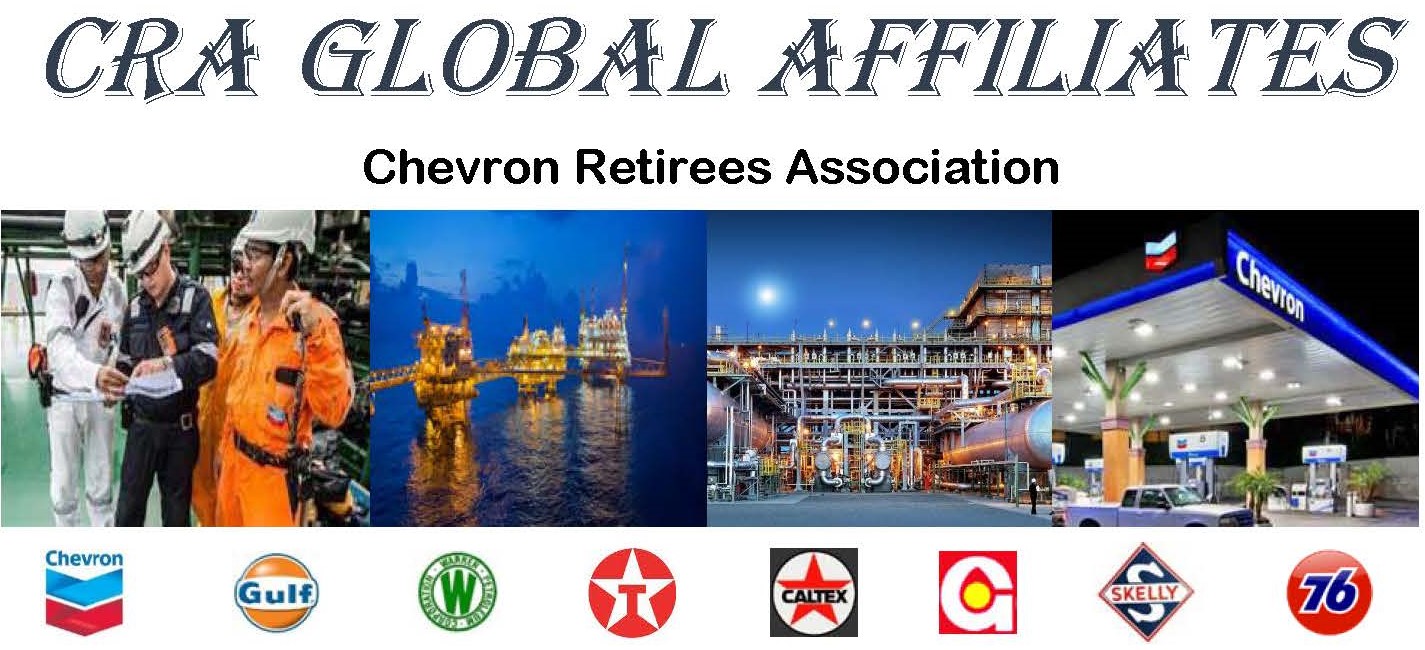 Fellow Retirees,

I hope everyone had a safe and enjoyable "nearly normal" 4th of July celebration.

Be sure to read the current Encore - - it includes an article on Chevron's energy transition strategy and the new Energy Transition website.

Please welcome our new Chevron retiree members: Thomas Anderson, Roger Benedict, Bryan Korn, Roger Rood, Scott Shaffer and Kent Springer.

And, to those who have renewed your membership, we thank you very much.

Have a great Summer!



Regards,   

Maree "MJ" Stone
---
MEMBERSHIP REMINDER

Global Affiliates operates on a calendar year basis – January through December.

We appreciate your keeping your dues current.

Your membership renewal date is included in the cover email you received via Constant Contact. For those of you also receiving a paper copy of The Update, the renewal date is shown above your address. If the date shown is 2020 or any prior year, it is time to renew your membership. Dues for the household are $8 per year or for our 5-year plan - $35 (a 12.5% savings).

To retain your annual membership through December 31, 2021 and your renewal date is:
2020 – your dues are $8.00

2019 – your dues are $16.00

2018 – your dues are $24.00


Make your check payable to CRA-Global Affiliates and send to PO Box 842124, Houston, TX 77284.

You may bring your membership up to date by completing and submitting our Membership Form.


---
NEW ARTICLES THIS QUARTER
---
Chevron Retirees Association
Herb Farrington
President
13936 Grambling Circle
Westminster, CA 92683
714-904-8525
Herbf76@msn.com
Chevron Retirees Association
MJ Stone
Area Vice President - Global Affiliates
P.O. Box 842124
Houston, TX 77284
602-989-5197
mjstone-1@comcast.net
CRA MISSION: To attract and retain a diverse and multicultural dues-paying membership that brings value to all retirees and spouses and to the corporation
This website is managed by the Chevron Retirees Association, which is
not a subsidiary of Chevron Corporation but an independent organization
of retired employees of Chevron or its predecessor companies.
© 2010 Chevron Retirees Association. All Rights Reserved.