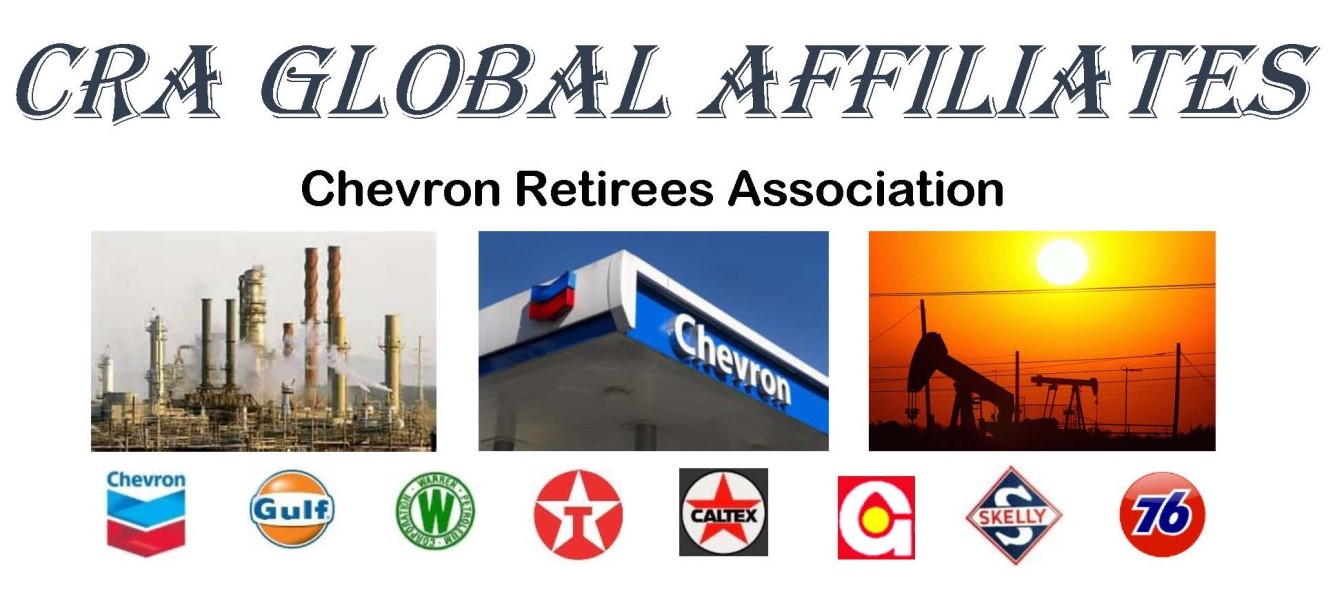 Fellow Retirees,

Fellow Retirees - SUMMER HAS ARRIVED!


The current issue of CRA's quarterly newsletter, ENCORE, contains some important clues about how to potentially save money on our prescription drugs and details about how we can protect ourselves from identity theft.

The issue also includes Chevron's CEO, Mike Wirth's keynote address at our Annual Meeting in May; which was held in San Antonio, TX. In his remarks, Mike stressed again that as retirees we can support the company by joining the Chevron Advocacy Network (CAN).


The CRA has committed to increasing the number of our members who participate in CAN. If you haven't joined yet, please consider doing so now.

We have some new members to WELCOME. Former Texaco retiree Mark Shields and Chevron retirees Thomas D'Amico, Mott Groom and Sandra Leister and Charlie Ruiz.

Thanks to all of you for joining and to those of you who have recently renewed your membership.



Regards,   

Maree "MJ" Stone
---
MEMBERSHIP REMINDER

Global Affiliates operates on a calendar year basis – January through December. We appreciate your keeping your dues current.

For those of you receiving paper copies of The Update, the renewal date is shown above your address. If the date shown is 2017 or any prior year, it is time to renew your membership.

Email communications also include your renewal date.

You may bring your membership up to date by completing and submitting our Membership Form.


---
NEW ARTICLES THIS QUARTER
---
Chevron Retirees Association
Kathleen G Henschel
President
108 Poppy Court.
Walnut Creek, CA 94596
415-713-9979
kghenschel@gmail.com
Chevron Retirees Association
MJ Stone
Area Vice President - Global Affiliates
P.O. Box 842124
Houston, TX 77284
602-989-5197
mjstone-1@comcast.net
CRA MISSION: To attract and retain a diverse and multicultural dues-paying membership that brings value to all retirees and spouses and to the corporation
This website is managed by the Chevron Retirees Association, which is
not a subsidiary of Chevron Corporation but an independent organization
of retired employees of Chevron or its predecessor companies.
© 2010 Chevron Retirees Association. All Rights Reserved.