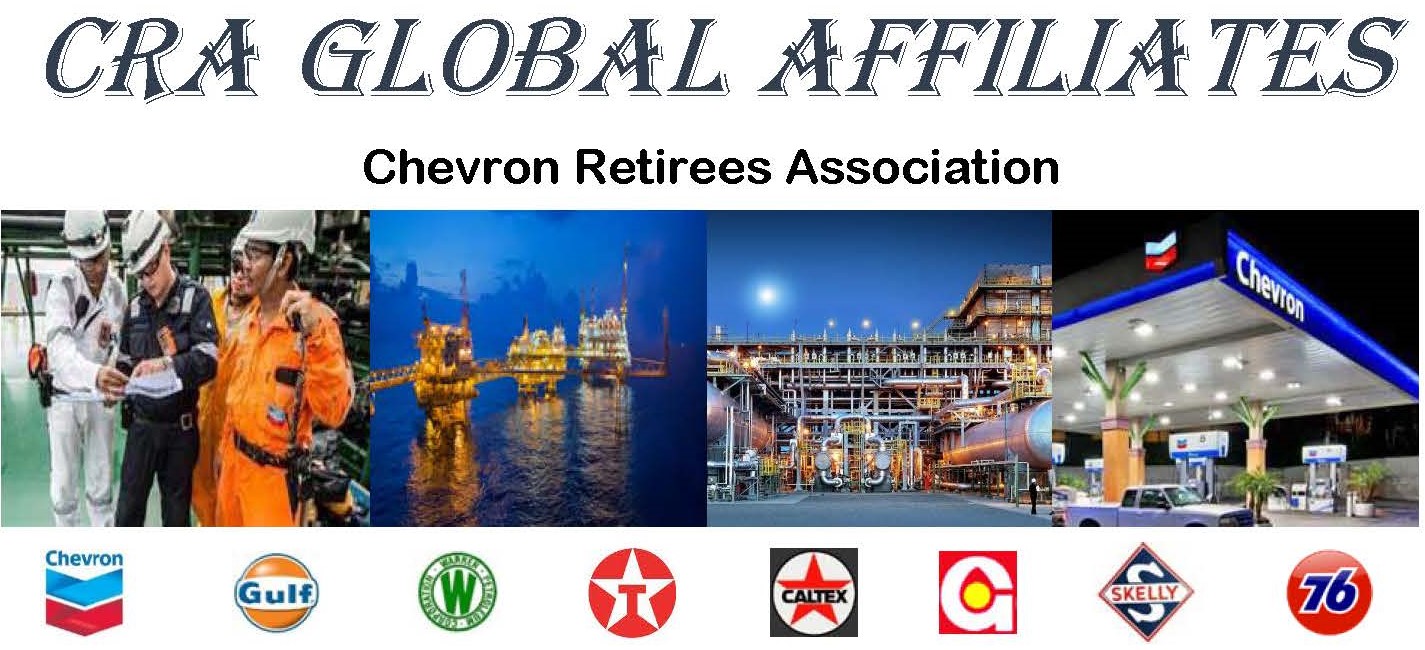 Fellow Retirees,



I am Glenn Ewan and happy to undertake this assignment. My objective is to continue the very fine service Maree has given this position.

My first wish for each of you is that you have had a very good holiday season and will have a happy winter

I trust you have each exercised your options available during the Open Enrollment period as needed. It is extremely important that we each keep our health insurance of choice in force.

The Update and Encore will continue to be delivered in the format you requested. I am considering having some ZOOM sessions during the year with Chevron management speakers. If you are interested in joining, please let me know. The link to the ZOOM session will be sent to you by email so please indicate your interest by sending your preferred email address to globalaff@cramail.org

Please welcome our new Chevron retiree members since the last newsletter: Tammy Balliviero (CVX), J. G. (Gil) Yoder (CVX) and Richard Vandeboom (CVX).

As a reminder, above your address is a number that reflects December 31 of the year in which your membership will expire. If the date shown is 2022, we look forward to receiving a payment to extend your membership.

I look forward to being your AVP. Please feel free to contact me if you have questions regarding the Global Affiliates.

Do your best to Stay Warm and have a good winter.

Regards,



Regards,   

Glenn Ewan
---
MEMBERSHIP REMINDER

Global Affiliates operates on a calendar year basis – January through December.

We appreciate your keeping your dues current.

For those of you receiving paper copies of The Update, the renewal date is shown above your address. If the date shown is 2022 or any prior year, it is time to renew your membership. Dues for the household are $8 per year or for our 5-year plan - $35 (a 12.5% savings).

To retain your annual membership through December 31, 2023 and your renewal date is:
2022 – your dues are $8.00

2021 – your dues are $16.00

2020 – your dues are $24.00


Make your check payable to CRA-Global Affiliates and send to PO Box 842124, Houston, TX 77284.

You may bring your membership up to date by completing and submitting our Membership Form.


---
NEW ARTICLES THIS QUARTER
---
Chevron Retirees Association
Brad McCullough
President
7 Valley View Road
Orinda, CA 94563
925-253-0229
bjcc2@comcast.net
Chevron Retirees Association
Glenn Ewan
Area Vice President - Global Affiliates
P.O. Box 842124
Houston, TX 77284
281-693-5461
globalaff@cramail.org
CRA MISSION: To attract and retain a diverse and multicultural dues-paying membership that brings value to all retirees and spouses and to the corporation
This website is managed by the Chevron Retirees Association, which is
not a subsidiary of Chevron Corporation but an independent organization
of retired employees of Chevron or its predecessor companies.
© 2010 Chevron Retirees Association. All Rights Reserved.